Machine Control by Jon Thomas Stokkeland
This page is outdated and I haven't really done anything with it for some years. I "grew up" with PLC programming and HMI before leaning to IT in the later years.
I started my career with an apprenticeship for a manufacturer of outer-packaging machinery (Nor-Reg, owned by Tronrud Engineering since 2015). I quickly became a part of the programming and service department, developing PLC programs and MMI/HMI, anything from small cardboard box or tray erectors, to larger furniture packaging and mattress lines.
In 1998 I went to Larsen Automasjon (Was acquired by Tronrud Engineering in 2000 or so), a custom machinery builder, and established their controls and service dept, prior to my arrival they had outsourced it all. In 1999 i moved to North America, at Highland Injection Molding, I was the sole controls engineer, retrofitted Injection Molding machinery, and built/retrofitted other automated accessories, like conveyors and stacking, stamping, centralized vacuum material feed systems, and more, and I also started my shift to IT here, setup and integration of the ERP/MRP system was the priority, we did a lot of integration of process and production data.
In 2004-2011 period I worked in Public Sector IT, now and again I was involved in integrating controls data and networking, such as water treatment, waste water, and stadium facilities.
In 2011 I am went back to manufacturing in IT for Zippo® Manufacturing - more actively involved with ERP integration of production data again, using Rockwell FactoryTalk tools, plus everything focused around the factory floor - from wifi/lan to EtherIP.
---
My Stuff
A picture taken by some educational magazine when I was an apprentice at Nor-Reg (Norway), they had some featured article about this new flavor of education options touching all mechanical, electrical, and controls subjects. It is no longer available online, it was in 1993 I think.
Nor-Reg Control cabinet for a Mattress Assembly line (Ekornes, Fetsund, Norway). This was probably around 1995-97 sometime, Siemens Simatic S5-115U, probably a 944 CPU but I really dont recall - positioning control and weeks spent on site to finalize it all for production.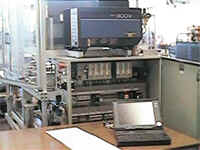 Nor-Reg Control cabinet for some smaller machinery, probably a tray-erector or small tray-packer. Controller looks like a Simatic S5-100U, cpu was usually 103. I have done a ton of these systems over the years. Probably 1994-1995, given the size of the image I think it was taken with my first digital camera, with a huge resolution of 320x200 :-)
Pretty sure this was taken at the same time as the picture above - just from my office at Nor-Reg.
Larsen Automasjon, Dual Feed WrapAround packaging (WAP) machine, bagged products, I dont recall what it was, might have been some candy of sorts. Pictures are from the machinery manufacturing facility at Tyristrand, Norway.
Loading the hopper with some card board blanks - getting ready for some dry tests.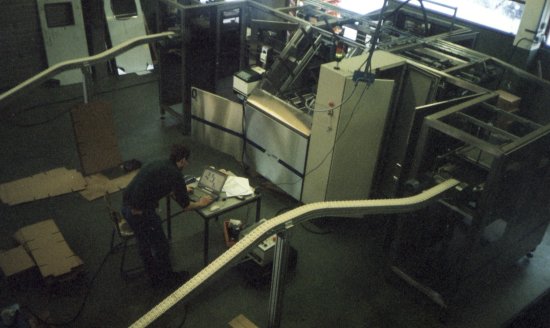 Adjusting Parameters and fine tuning the program and/or operator interface.
Larsen Automasjon - Control Panel for WAP machine. 1999. Siemens Simatic S7-300, do not recall the CPU, this particular one had only Discret logic, 24VDC I/O - and using Inverters and Async motors for simple positioning systems without need for accuracy. Positioning used on Main Horizontal and Vertical Wrap Around movements. Hot Glue Application in Blank Feeder. Dual Feeds with Pattern Builders using so called Bull-Nose principle to stack and overlay products - then compressed and transferred to retracting vertical wrap motion.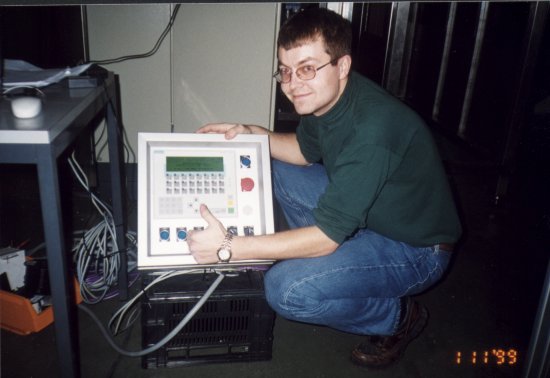 The operator panel - cheap and simple Simatic OP17 - for simple adjustments and changeover between product types and box-patterns etc.
External and Related
These arent the items I worked on, but for the lack of picture I am including them as they are relevant
Building install of S7 controller - one of these projects where huge, thousands of I/O, local and remote.
Tronrud Book Wrapping machine. When this company was by itself as Larsen Automasjon, 1999/Norway - I helped develop this concept machinery, using single sided card board on a roll to wrap stacks of books of varying sizes/heights adjusting on the fly. Huge cost savings for book clubs and publishers and such.
Nor-Reg combined Bag-Tester, Tray/Case Erector and Chips Bag Filler. Nor-Reg is the leading manufacturer of chips-bag outer packaging machinery in the world, the concept is quite simple and effective.
Nor-Reg non-standard machinery - double-pallet packing line.
use of Festo Direct-Profibus I/O blocks for neumatic control valves.